Last week Monday tornadoes tore through Suffolk (as well as other places). Miraculously no one was killed. Property damage was high though. Suffolk is a very important city to my team. Our bike shop sponsor, All About Bikes has a Suffolk location, we have teammates who live in Suffolk and a teammate who is a Suffolk firefighter. But even beyond that the city of Suffolk is a huge supporter of bike racing. This is a city that actually approaches promoters and request races to be held in their city. The VBW Smackdown will be a yearly event. The Dismal Dash has been around for many years and I was in the works to set up a road race in Suffolk prior to the storm hitting (the road race may need to be put off till next year because the city officials are a little too busy with clean up efforts). Anyway the Virginia Beach Wheelmen and All About Bikes Racing teams are teaming up and organizing a fund raiser ride in Suffolk. Here is what we have so far:
Saturday morning May 17th an 8 am start
I believe Governor's Point will be the starting location
40 mile and 25 mile loops
Aid stations set up for both loops to use
Police escort will be available (Suffolk police are too busy so Portsmouth will come out to help).
We still have things to figure out. We don't yet know how we will collect money. All money collected will be donated to the Suffolk branch of the American Red Cross. They have been instrumental in the relief effort, especially since Suffolk has been denied Federal Aid. This is still in the planning stage, we just want to everyone to mark there calendar. Most clubs do there training rides on Saturday (no race this day on the VCA calendar) so we are just asking for the groups to relocate for a day.
Think about this: Suffolk has some beautiful roads to ride on. We can show that community that supporting cycling pays off. This is another chance for cyclist to band together like we typically do.
So plan on this ride and let me know if you have any questions. I'll keep you posted as we get more details.
Thanks.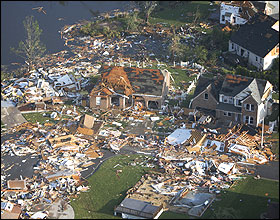 Pictured above: Actual damage.